International projection and a warm welcome
Although in existence for just over 20 years, the Rovira i Virgili University is now shown as an example by the European Union and recognized as one of the best young universities in the world. The URV's commitment to excellence now attracts a multitude of international students and researchers.
Endorsed by the Instituto Cervantes, the Center for Hispanic Studies (CEH) offers a wide range of high-quality programs. To help our international students settle quickly into their new surroundings, we assist them in finding accommodation and organize social and cultural activities to help them get to know the city and the region.
A program that stands out from the rest
The URV is the only Spanish university that offers two different tracks for optional subjects in Spanish Language and Hispanic Culture programs. These tracks are: Spanish and Culture, and Spanish and Business.
Students who wish to pursue a teaching career take the Spanish and Culture track, which includes courses in Literature, History and Art. Students who wish to pursue a career in business in Spain or Latin America take the Language and Business track, which comprises courses in international trade, company management and economics, and places special emphasis on the increasing trade links between Europe, Asia and Latin America.
An experienced team of professionals
The URV has a team of specialist teachers with vast experience in the teaching of Spanish as a foreign language. The first Spanish-language courses of various levels were taught in 1992.
Since 2000 the URV has offered a Master's to train teachers of Spanish as a foreign language (online and face-to-face). Since 2005 we have taught a Training Program for Chinese students with annual Spanish language and culture courses and Spanish language and business courses, and a Language Vacation program in the month of July, all which have registered excellent numbers of students.
Find out here who is who at the Center for Hispanic Studies.
Study progression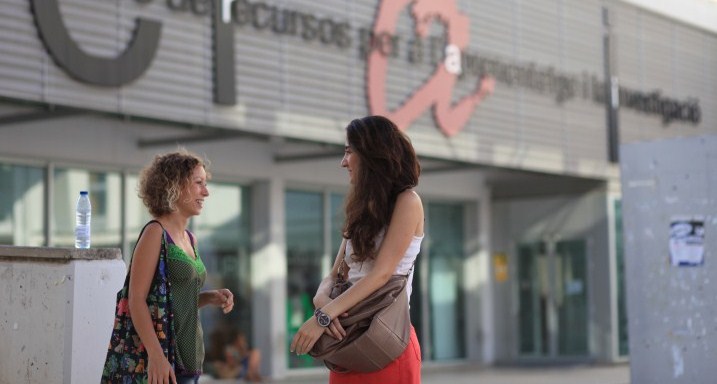 In addition to the specific courses and intensive courses offered, students of Spanish at the URV can take two consecutive years of undergraduate courses, which they can later have recognized (through agreements with the respective universities) as the third or fourth year of their undergraduate degree in Spanish at their home institution.
Students can also complete their Spanish studies by taking a Master's degree. As a continuation of the degree program, the URV offers an Official Master's in the teaching of Foreign Languages (Spanish or English) and a URV-endorsed Master's in Business Relations between Europe, Asia and Latin America. Students who have completed studies in Spanish language and Hispanic culture take the former, while those who have completed studies in Spanish language and business take the latter. These one-year official studies comprise 60 ECTS credits.
Students can also continue their training by enrolling on the doctorate in Humanistic Studies.