DELE examinations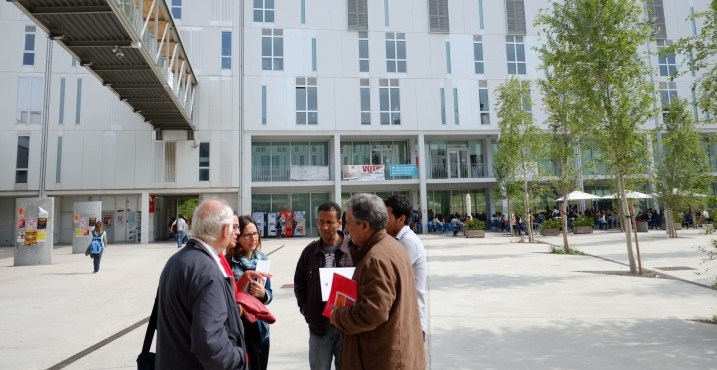 Every year since 1999-2000, the Instituto Cervantes has entrusted the URV to organize and run the official Examinations leading to the Diplomas in Spanish as a Foreign Language (DELE). The DELE are official qualifications that accredit various levels of Spanish-language competence and proficiency following the guidelines of the Common European Framework of References for Languages (CEFR) of the European Commission.

The examinations comprise a series of tests to evaluate the candidates' competence in the various language skills. In order to obtain a Diploma at any level of competence, candidates must pass each group of tests during the same examination session.
The Center for Hispanic Studies (CEH) registers and examines every candidate who takes any of the tests at any session. We conduct and evaluate the oral examinations at every session and organize face-to-face and online courses to prepare candidates for these examinations.
The URV currently administers the examinations for the following levels:
DELE A1. The ability to understand and use familiar everyday expressions and very basic phrases aimed at the satisfaction of needs of a concrete type.
DELE A2. The ability to understand sentences and frequently used expressions related to areas of most immediate relevance and the ability to communicate in simple and routine tasks.
DELE B1. The ability to understand the main points of clear standard input on familiar matters and the ability to deal with most situations that are likely to arise in the course of daily life.
DELE B2. The ability to understand the main ideas of complex texts and the ability to interact with native speakers with a sufficient degree of fluency and spontaneity.
DELE C1. The ability to understand a wide range of demanding, longer texts and the ability to express ideas fluently and spontaneously.
DELE C2. The ability to understand with ease virtually everything heard or read and the ability to express oneself spontaneously, very fluently and precisely.
The DELE are recognized internationally by universities, public and private companies, chambers of commerce, public and private education systems, international cooperation agencies, organizations such as the CEOE (Confederation of Employers and Industries of Spain), official language schools, and foundations. They are increasingly required internationally by universities and companies and their validity never expires. The price of these examinations is set annually by the Instituto Cervantes.
Dates of the exams on the Spanish version of the website